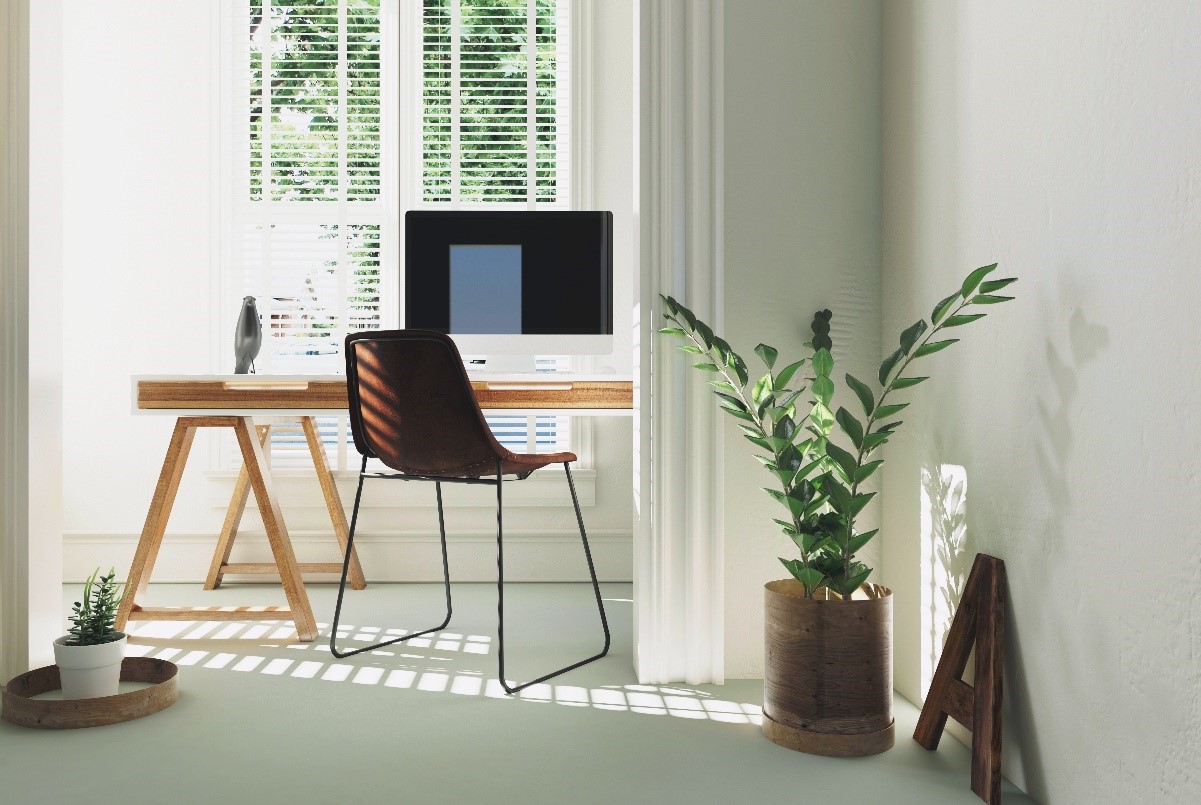 Carving out a home office that inspires creativity and helps get the job done can be relatively easy. Plus, it doesn't require a dedicated room or lots of square footage, either. Check out our brilliant ideas to help create a space where your productivity can flourish! 
Determine Your Needs
When designing a home office, the most crucial factor is also the most obvious! This space has to work for you! You will need to consider your specific needs. Is it quiet enough to take calls? Do you need to accommodate an occasional guest? Once you determine your needs, you can fill in gaps with the other office non-negotiables such as a desk or table, a comfortable chair, etc.
Find The Right Space
You may not have an entire room to designate as an office, that's okay! Take a look at what you do have. You may be able to optimize your square footage, while creating the perfect solution, by turning an unused closet or long hallway into a workstation or even utilize a wall or corner with a wall mount or corner desk. If you have a little more room, you may be able to carve out a workspace in the mudroom, a guest bedroom, or even your master bedroom. There you can put a versatile desk that can double as a console table when not in use, or think outside the box to create a dresser-desk combo. If you have a whole room to commit as your office, you have more options and can get even more creative. 
Add Color
Create an accent wall with a playful coat of paint (or don't to keep a more minimalist feel), adding floating shelves to draw the eyes up. Use reclaimed wood shelves and dark brackets to add a level of warmth, or white shelving to open up and brighten the feel of the space. Use the shelves to display favorite books, photos, plants, or art to help make the area feel inviting and give you something beautiful to look at while working.
Lighting
If you get plenty of natural light, you may be able to use it to effortlessly tailor your workday to the organic circadian rhythm of the sun. However, if you are an early riser or a night owl, you will need to consider lighting. Look for bulbs that mimic daylight to help improve productivity. Another option is to get adjustable LED lighting attached to a dimmer, which can range from bright cool blue-white to promote efficiency, to soft, warm yellow-reds when you are ready to wind down and relax. Research has shown that cooler lights can improve alertness and lower melatonin, which in turn reduces fatigue. In turn, limiting blue lights when you are ready to unwind can cue your body to relax and be the mental prompt you need to get you out of work mode. 
Storage
Storage is essential to any home office. If your budget allows for it, customized built-in storage is a great idea. For example, a hidden murphy bed is a great option if your space needs to double a guest room. If built-in's are just not in the budget, a daybed that masquerades as a sofa by day can do double duty when guests arrive. Choose one with storage underneath to maximize space. Floor to ceiling shelving is also a great way to maximize storage in a small area. Many home offices get cluttered because there aren't enough places for 'stuff' to live. Wall-mounted drawers, file drawers, and cabinets can be bought separately, then grouped or stacked to fit your space. Creating creative storage options can help make for a clutter-free space. A clutter-free space outfitted with simple furnishings and storage has a way of freeing the mind and sparking creativity. 
Give Yourself a View
Open floor plans often mean offices need to match or complement your existing home decor to create a pleasing flow between rooms. Positioning your office area to give yourself the ability to view the beautiful outdoors gives your home office a sense of peaceful relaxation. Windows or a glass door will allow natural light in for a light and airy feel, making your work area feel less enclosed. Don't have an area with many windows? That's okay! Forgo heavy draperies in favor of gauzy curtains or a neutral roman shade, and bring in the outdoors with plenty of potted plants. When spending long hours in your home office, plants will help you feel connected to the outside world and purify the air. A large fig tree, Philodendron, English ivy, succulents, or some cut flowers will add a nice dose of color to your home office space.
Personalize the Space
Your home office can be a true representation of you. Designing a home office gives you the flexibility to be creative and let your personality shine!